Publish your WayMore content in different languages and across many devices, using the web content management platform, Drupal.
Please check all the dependencies depicted in the image below before installing and enabling this module.

1. Download WayMore Drupal 8 plugin, then login to your drupal8 admin panel and under Manage > click Extend and press "+ install new module" button.
2. Select the second option in order to upload your plugin. Select the plugin archive by pressing "Choose File" and then "Install".
3. Wait a bit for the installation to complete, do not close or refresh the browser tab. Once done you will receive an "installation success" notification.
4. Next you will need to enable the plugin. Go to Drupal 8 admin panel and under Manage,> click Extend, locate the newly installed module "Waymore Integration" ( if the checkbox next to it is unchecked you will need to check it), and press the "Install" button at the bottom of the page.
5. Once the module has been enabled the checkbox will be marked as checked but disabled, this is because authentication is required to enable WayMore features.
6. Next step is to configure the plugin. Go to Drupal 8 admin panel and under Manage > Configuration find the enabled plugin which should be under the SYSTEM section, click on it to configure.
7. Press the "Authenticate" button and you will be asked for Routee.net credentials. Enter your credentials and select the appropriate value for the "Select Phone Number Field" and press the "Save Configuration" button to start the integration process, wait for the process to complete.
8. Once the process completes the button text will be changed to "Authenticated" which means integration with the WayMore has been done successfully.
9. Now you can start and manage your automation or workflows from WayMore Platform.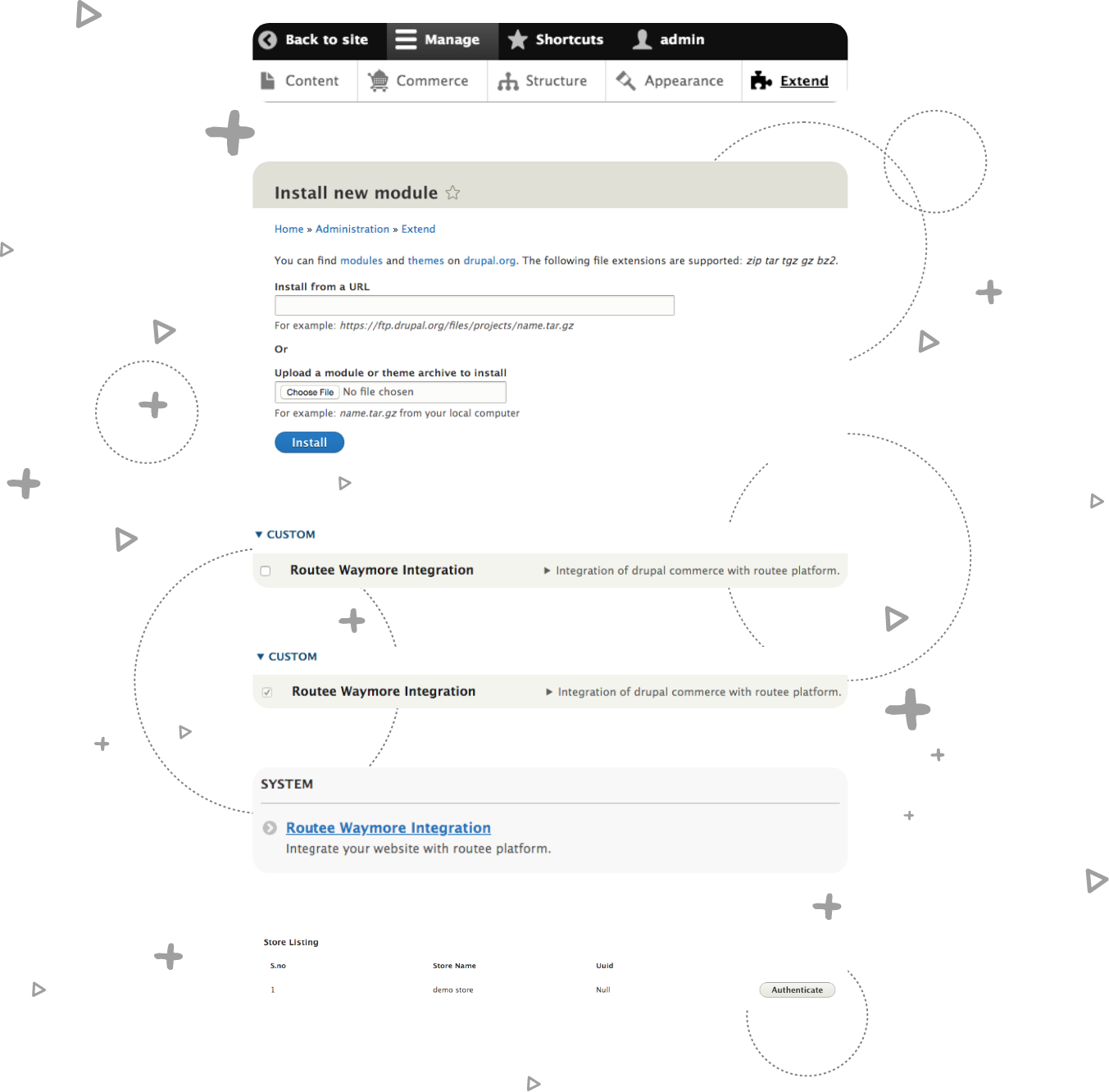 Send a Notification through your preferred channel:
Connect with your audience worldwide
Translate your page content in several different languages and compete in large-scale markets.
Reach a wider audience with a platform that is accessible to people with various disabilities.
Take advantage of the endless possibilities that the combination of WayMore and Drupal can offer you and boost your business performance.
Benefit from advanced personalisation
Turn your data into a personalized experience for each customer. Reach and deliver relevant content based on site visitors' interests easily and simply.
Ensure high level security
More than 1 million developers worldwide contribute to Drupal, making it one of the most secure and stable platforms available.
Offer diverse and quality content
Let customers choose from endless product variations, subscription options, individual items, or bundles.
Do you need assistance to complete the installation?
Our team of experts can take care of the entire process for you.
Click here to give us your consent in integrating the WayΜore plugin with your Drupal 8 e-Commerce website.